Water is one of the many contestants in Object Invasion
Personality
Edit
Water is a nice contestant who can be shy at times. She try's her best to win a challenge, but as a result she most of the time breaks into pieces. ha ha gender fluid fucker!!!!!!!!!!!!!!!!!!!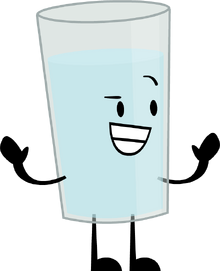 In the old version of Object Invasion, Water didn't have arms.
There is also a character named Water in Object Insanity.

Voiced by:YellowAngiru (Snow More Puns)
Ad blocker interference detected!
Wikia is a free-to-use site that makes money from advertising. We have a modified experience for viewers using ad blockers

Wikia is not accessible if you've made further modifications. Remove the custom ad blocker rule(s) and the page will load as expected.